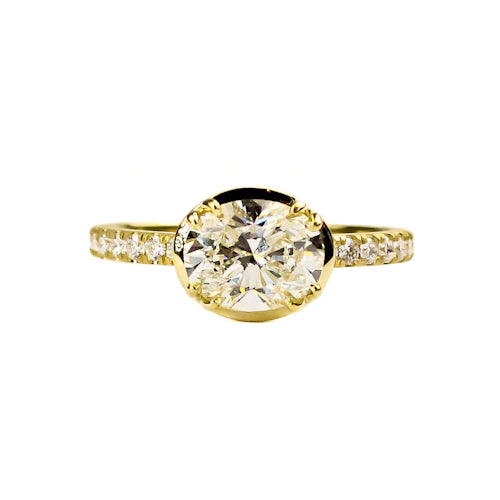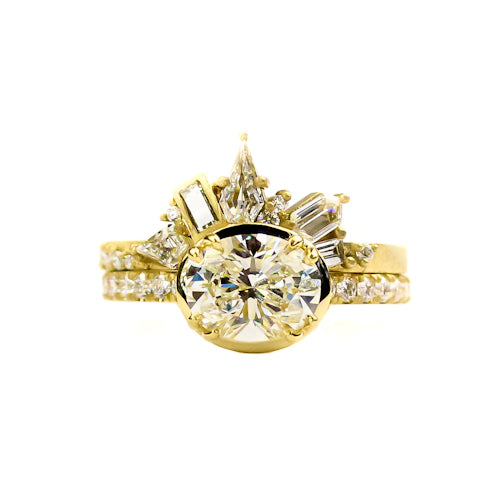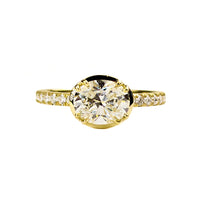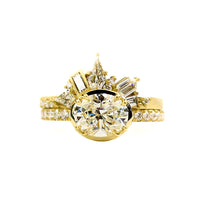 This Samantha Louise engagement ring is made with 18k yellow gold and holds an oval shaped diamond set with claw prongs and accented with a signature pavé band containing approximately .30ctw white brilliant diamonds.
Center diamond is not included but if you would like help sourcing one please reach out to studio@samanthalouisejewelry.com.
Stack the Oval Signature Pavé Ring with the Samantha Louise French Cut Falling Star Tracer or Constellation Tracer Band for the perfect alternative bridal set. 
*Pricing subject to change based on center stone and finger sizes. 
Style # CR-SP-OV
Samantha Louise Jewelry is custom made to order.  Please allow 4-6 weeks for delivery. We have some pieces in stock. To check our availability please see our Ready to Ship gallery.
Please contact us for any and all sizing estimates. 
Rings: If purchasing a ring, please indicate your finger size in the notes section upon checkout. 
Ring pricing is for sizes 4-7. If you need a larger size, there may be an extra fee. We will contact you with the price difference required to fulfill your order.
Necklaces: If you would like a custom length for your necklace, please indicate length in the notes section upon checkout. Go ahead and place your order. We will contact you with the price difference required to make your adjustment.
Bracelets: If you are purchasing a bracelet, please indicate your wrist circumference in inches upon checkout. If you need assistance, please reach out.